Fun, easy & innovative, new home tech gadgets for 2019 will have your home SMART in no time. Not a Tech person, no worries start small. We guarantee once you start you won't be able to resist the newest gadgets for your home.
Ring Video Doorbell Pro: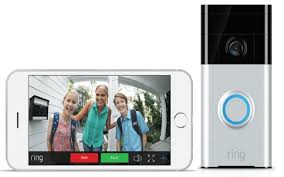 Easy to install this doorbell will wow you. In the age of home delivery this gadget will be indispensable by allowing you to see and talk to visitors from inside your home, from your office or on the road. It sends a notification to your device if it detects motion. Answer your door from anywhere on your smartphone, tablet or PC. It has 1080HD video, 2 way audio and customizable motion sensors. The device is weather resistant and comes with 4 interchangealbe faceplates to match your home. Match it with a SMART garage door opener that will allow you to open your garage from any location. Imagine the security of identifying the UPS delivery person, asking them to place your package in the garage through your SMART doorbell, opening the garage for them to place the package and then closing the garage door behind them all from your smart phone.
SMART Dog Camera: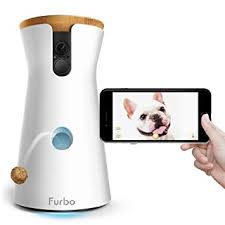 Dog owners will love the new SMART dog camera. It can be difficult for a dog owner to leave their loved one alone while at work. This camera allows you to check in on your pet from your device. You can see, talk and toss treats to them. Peace of mind for you and your pet.
Smart Refrigerators: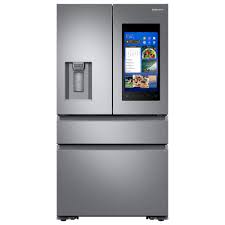 Another wow product for 2019. Smart fridges allow you view what is inside your fridge without opening the doors by just tapping the outside of the fridge. At the market and can't remember what you need? No problem, you can view the inside of your fridge from your device. The fridge can even make suggestions of what to buy for specific recipes, health concerns or needs. it will even suggest a recipe based on the ingredients you have on hand in your fridge. Some models have full screens that can mirror your Smartphones, sync calendars for family activities and events. They can even connect with your hub, control lights & more. Virtual whiteboard for notes to your family. Watch TV, listen to music all from your new Smart refrigerator. The best part is it still keeps food cool.
Smart Beds: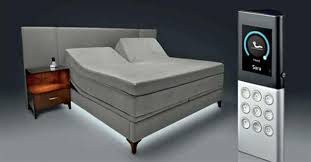 Sleep has always been important for good health. Now Smart Beds help you maximize sleep's benefits by tracking your sleeping habits. Smart beds learn about you and automatically adjust the firmness, foot temperature and support of your bed to give you your best night's sleep. You can even have the app send you a report in the morning detailing how you slept the night before.
Smart Pots for Plants: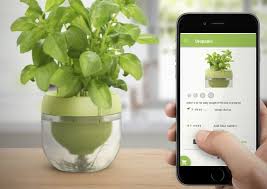 According to the Home Air Quality Guides indoor air pollution is 2-5 times worse than outdoor air pollution. Plants have always been an effective and natural way of cleaning our interior air. Smart pots amplify the biofiltering properties of plants allowing the plant to absorb more pollutants in your home and looks great while doing it. The pot can use your SMARTPHONE app to tell send you an analysis of your indoor space. Smart pots can also produce reports of how your plant's moisture and fertilizer's levels are doing.
Smart Light Bulbs: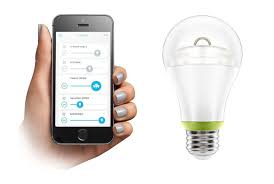 Studies are showing that certain shades of light at specific times of day increase our productivity, help us sleep better and improve our concentration. Perfect timing for Smart Light Bulbs. These light bulbs feature every shade of white light and all the colours of the spectrum. Stressed? Try soft purple light or create the feeling of sunset with a warm orange. The sky truly is the limit. The bulbs work with your SMART Home products such as Nest, Amazon Alexa so that lights can adjusted at the touch of a button or voice activated. You can even set an alarm that triggers the lights to pulsate or turn off and on while you are on vacation. Starter kits make it easy with everything you need to get started.
Hubs: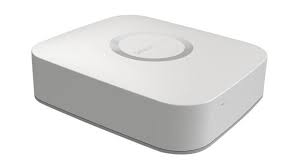 Smart hubs help get your tech working together. They allow you to run all of your Smart devices from one hub. If your Smart devices are from different manufactures you will need the hub to bring them all together. Once installed the hub will allow you to control all of your devices from your Smart phone, tablet or desktop.
Smart Locks: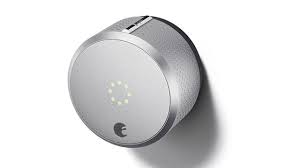 Up your feeling of security in your home with Smart Locks. There are many different models that offer different features. Here is an overview of what is available. Of course the main feature of the Smart Lock is the replacement of the key. Now your door can be opened through an app on your phone or a touch pad on the lock. Some models have voice activation allowing you to just speak into your phone to open the door. The lock will monitor who is entering and leaving your home while you are at the office or on vacation. Some models allow you to assign special privileges to friends, family, cleaners, plumbers etc. You can even set access schedules for specific days and times. Perfect for your daily dog walker. Auto lock is another feature that allows you to set a perimeter that automatically locks your door once your phone is outside of the set perimeter. No more worrying if you locked the door. Some locks can work with your other Smart home devices like smoke alarms so your doors are automatically unlocked when a smoke or CO alarm is triggered. You can also have your smart lights turn on when a door is unlocked. Amazing for a homeowner that want added security and protection.
Smart Smoke Detectors: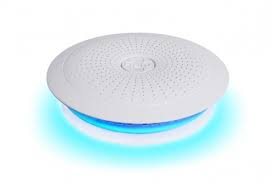 Being woken in the middle of the night by a high pitched siren is a homeowners worst nightmare. You don't know where the fire is located, how intense it is and you are in the complete dark. Enter the Smart Smoke Detector. This Smart product doubles as a CO detector as well and not only sounds an alarm but also tells you what room the alert is coming from and the nature of the emergency. They also have the capability of working with other Smart devices to turn on your SMART lights making your escape safer and faster. It will also send a notification to your Smart phone alerting you of the alarm allowing you to call the fire department or neighbour while on vacation or at the office. Some models like the Alexa-powered model allows you to use the device to play music, get weather reports or control other Smart home devices.
Smart Flood Sensors & Leak Detectors: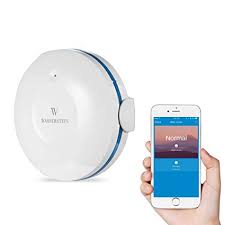 You are on vacation in your sunny destination but at home your pipes have frozen and burst or your hot water tank has decided to leak. You have no idea until you get home and the damage is done. If you had a smart flood & leak detector a notification would be sent to your smart phone alerting you to the emergency. Some manufactures even have an option that automatically shuts off the main water valve in your home if a leak is detected.
Smart Vacuums:
Fun to watch, great for cats and quite convenient the smart vacuums make sweeping the floor a thing of the past. Hook up to your home hub and your vacuum becomes voice activated or set it up on a schedule for clean floors. It can even send you a text or a tweet to let you know your floors are clean. Newer models are better on uneven surfaces, have longer battery life and have more power so you are not constantly releasing them from under furniture. Keep you eye out for the Smart lawnmower. A strange sight but the possibility of sitting on the deck watching your lawn being cut is very appealing.
Smart Forks: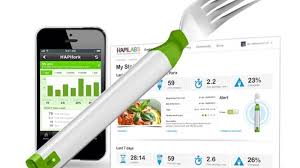 Moving into the future we all want to be as healthy as possible. Smart technology can now monitor how quickly you are eating your food and provide you with a report an suggestions on how to improve your habits. Studies have shown that eating too quickly can lead to complications such as obesity. The smart fork gauges how quickly you are eating and vibrates and lights up alerting you to slow down and eat at a proper pace. The fork will produce a report on how long it took for you to eat your meal, fork servings per minute and intervals between your servings. Connect to your app to track your progress, get coaching and set your goals for better help.
Our homes truly are becoming smart and this is just the beginning. In the next few years we will begin to experience a wave of Smart products designed to improve the quality of our lives. Tech people will relish in the glow of AI. For some of us, however, these smart devices may be more trouble than they are worth. It may be easier, at this point, to turn on a light than purchase, set up and try to use this new technology. However, just like the home computer soon we will not remember what it was like to live without them. For now they are extremely cool. Alexa save this blog, send it to Kendall and shut down my computer.